An alternative to creating a website project budget is to approach with a business plan methodology. How many people are looking for your products and services? What is your required market share? What is the maximum turnover for a geographical area? These questions can be investigated and answered allowing for a strong level of financial planning. We call this the 'financial funnel'.
How Big Is Your Market Online?
The financial funnel represents the three levels listed below which consist of the number of people looking for your product/service, your Internet footprint that captures these people and finally the conversion metrics. Gains and losses can be made in each level of conversion related key performance indicators. If you are not on page 1 of Google you are likely to have a market share of less than 1%.
Level 1 - 10,000 people per month search online for "Aluminium Ladders"
Level 2 - 1,000 people per month find your website making your market share = 10%
Level 3 - 100 people add to basket and convert to a sale = 10%
Financials - 100 sales at £100 per order = £10,000 per month
How Big Is Your Market Share Online?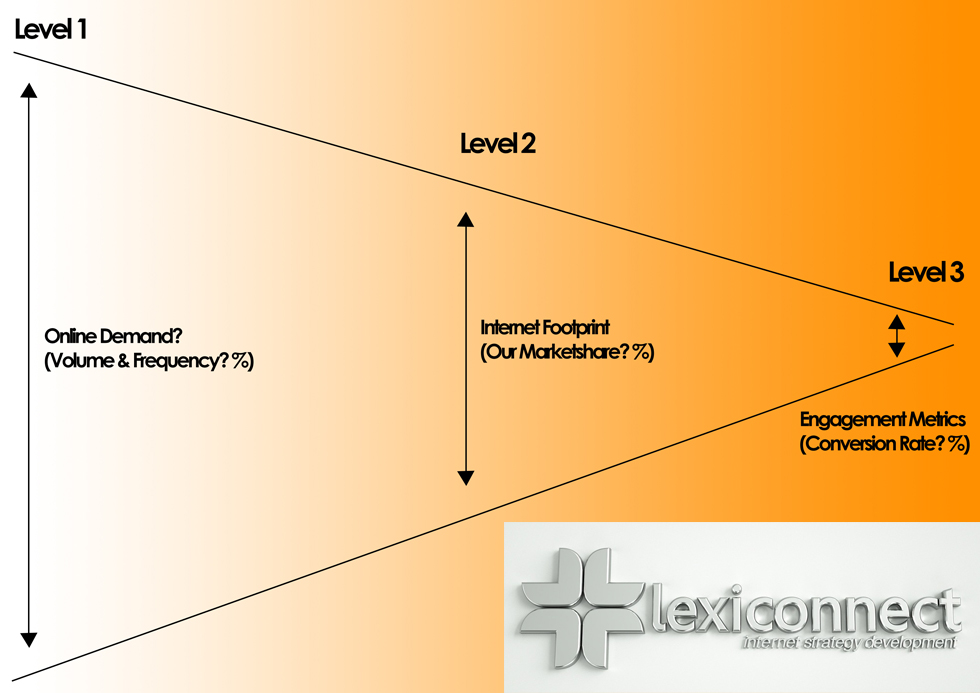 ---
All activities are supported by our unique Internet Key Performance Indicator system, which monitors financial metrics and your return on investment. An ongoing relationship model is also deployed which means we would work together for a minimum of 12 months as joint owners of the Internet Strategy. For more information please contact us for a discussion by telephone or email, our full contact details are listed here.
---