The leading websites in the top 20 listed on this page include search engines, social media, news media and e-commerce websites. Each month we analyse the leading websites and asses their impact on the Internet. Many well known companies and brands exist in the top 100 websites. Each of these can offer excellent case studies for all businesses regardless of size and market sector.Your Internet Strategy should include an action plan for each of these visitors source types. Each one operates in a different manner and requires a unique activity to generate visitors to your website. Conversion rates can also vary significantly between each of the four source types with repeat customers (Direct URL) often providing the highest ratio to sale/enquiry.
Organic search engine visitors
Pay per click search engine visitors
Referral visitors from third party websites
Direct entry visitors using your website URL (Unique Resource Locator)
In the early days of a young website the pay per click traffic source can be high as a percentage of total visitors. Over time this would reduce as natural visitors and referral traffic gain a foothold.
How Do Visitors Enter Your Website?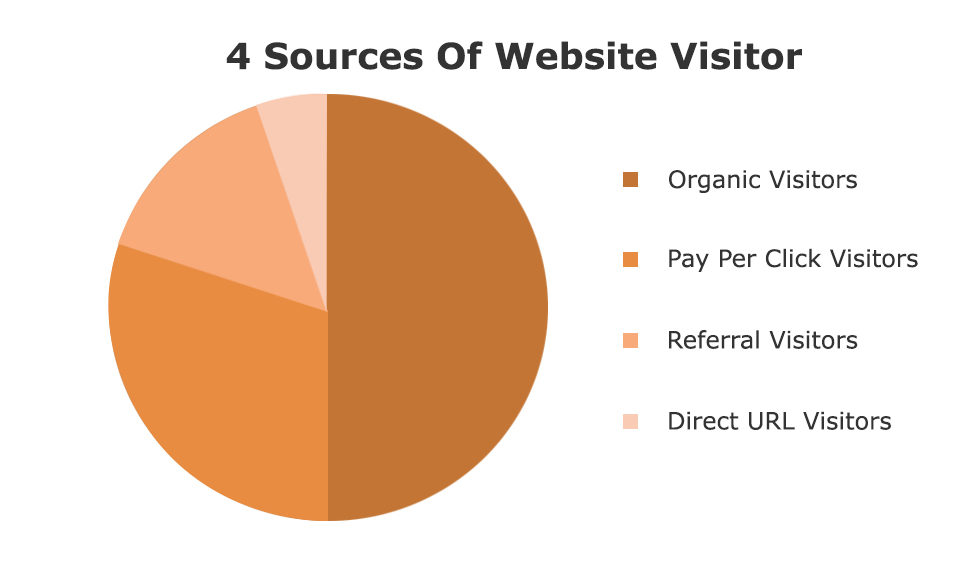 A healthy ratio from at least three of the four available sources of visitor is recommended to provide a balanced traffic route to your websites. All activities are supported by our unique Internet Key Performance Indicator system, which monitors financial metrics and your return on investment. An ongoing relationship model is also deployed which means we would work together for a minimum of 12 months as joint owners of the Internet Strategy. For more information please contact us for a discussion by telephone or email, our full contact details are listed here.
---