Aside from search marketing the company has invested in several technologies including cloud computing, and advertising technologies. Google hosts and develops a number of Internet-based services and products, and generates profit primarily from advertising through its AdWords program. The company was founded by Larry Page and Sergey Brin, often dubbed the "Google Guys", while the two were attending Stanford University as PhD candidates. The company became publicly listed in August 2004. The company is based in Mountain View, California, USA.
Lexiconnect utilise many Google software applications. The core areas deployed include Google Analytics, Google AdWords, Google AdSense and You Tube. Several other application tools are deployed including Google Search Console which combined, provide a comprehensive management information system allowing for complete key performance indicator management (KPI's).
Search Engine
Owner Of YouTube, Gmail, Maps, Android, Blogger, Analytics and many other online tools
Free To Register & Utilise
Significant Global Business with activity in all major technology applications
Typical Google Sitelinks Search Results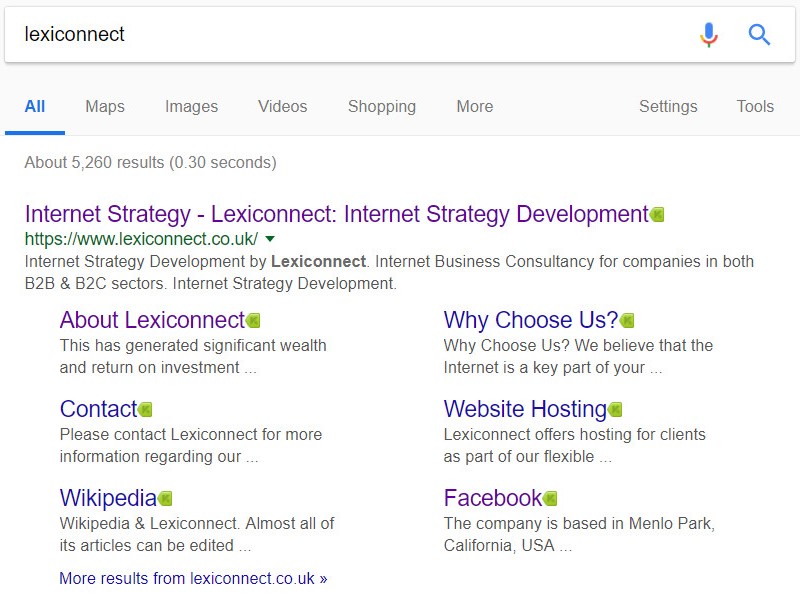 Need More Information?
If you require any further details regarding an internet strategy to assist your company's business requirements then please contact our team on 01909 512192. Alternatively, feel free to drop us an email at info@lexiconnect.co.uk
---